Theyíre BackÖand this timeÖ Itís Personal
Nick Clark looks at the Steeleye album Bedlam Born.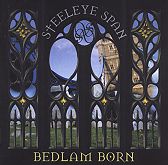 How do you approach the concept of another Steeleye album after more than thirty years and numerous line-up changes? Where are they coming from after all that time? Are they indestructible? If I had known when I watched them perform as a five piece at Derby ten years ago that, a decade on, only two of them would still be playing with the group I would have said the band would have had to fold. First Maddy left and then, earlier this year, Bob Johnson too. It was like watching Terminator II. Huge fireballs detonate within some massive explosion and when the dust settles, old Steeleye Span calmly walk out of the wreckage, dust themselves off, make a few adjustments and then the chase continues. In the case of Bedlam Born, the quarry is a new direction, a new sound for the remaining group members and a further and more penetrating expedition into the folk genre .
In many ways you would expect the album to be the reflection of the state of transition the group were in when making it (during the summer of 2000). With the departure of Bob imminent during the recording, he doesnít appear on all tracks but there was, at the time, no replacement. This is not the case however. The three remaining members were already crafting a new and very different sound, ably assisted, of course, by Dave Mattacks on percussion. The product is very strong. Whether you like it or not in the final analysis (and youíll have to play it a lot to get to itís heart) there is no doubt that the musicians concerned enjoyed recording it. The enthusiasm is there and the ground being broken is new and untrodden. Thatís refreshing.
Having said all that though, it is a taste of the disappearing Steeleye that hits us first. The opener is Well Done Liar. Itís very much a Bob Johnson track. A hard driving guitar riff, underscored by some very heavy drums and the band is firing much as they always have. The theme, as Bob says in the sleeve notes, is of the Ďteller of wonderful talesí- the way he has perceived himself. It is a goodbye statement from him which is in itself quite poignant. More so, though, is the feeling of what might have been when Gay comes in as backing singer, very much in the way she did in her halcyon days with Terry Woods, and adds strength to the refrain. The track has been played live a lot over the past year but it is more developed and much stronger on record.
Next up is Who Told the Butcher. To me, this is one of two tracks on this record that hark back immediately to the 70ís Ė the much vaunted golden age of the group. I wasnít around for that but I know a good tune when I hear one and Peter Knight as a ballad singer is a big hit. This could really fit in anywhere amongst those early albums but it has a freshness about it to. In John of Ditchford you begin to understand why murmurs of Led Zeppelin had begun to circulate around this album. Itís heavy but not only that, the guitar work does lend itself to a Deep Purple style. Just listening to it, I instantly thought of Bob and his stories of highway robbery and skullduggery and was surprised to find the vocals and lyrics by Tim Harries. Tim cut his Steeleye teeth on the ĎTempted and Triedí album so I suppose itís a natural follow on from there but itís great to see him come out into the open a bit more and concentrate on words as much as musical arrangement. Yet another good singer from the Spanners ranks ! Hardly surprising the record is longer than usual with so much creative input. Timís penchant is for heavier and with Dave Mattacks behind him he has plenty of chance to enliven the track.
Itís not until I See His Blood Upon the Rose that you realise how little Gay has led the line up to this point. With Maddy the band veered always towards the female voice as front. Gay doesnít seem to have to do this and comes on as strongly half way through a number or in a supporting role. This track though is undeniably her baby. Dedicated to her brother and in memory of the Irish poet Joseph Plunkett, this is a stirring song. The guitar backing is a march and Peter is on home territory with the violin. He knows EXACTLY how to play this and itís one of two songs on the album where one is struck by just how accurately he soloís and how much he has the feel for the moment. Black Swan is a melodic instrumental between Tim and Peter on an original theme by the former. I felt it was almost European and classical Ė it made me think of Vienna. I donít quite know why as Iíve never been there !
Once again The Beggar sees a change of style Ė proof again that the band seem to be jostling to get in all their creative input. Itís reminiscent of Queen in that respect where four musicians battle for space and a change of lead singer means a change in direction. This can only be beneficial and so it proves. The Beggar is much more rocky in style. Again, guitar based and with Bob leading the line, we have to be thankful for the bands capacity to call on accomplished replacements to take over on tour.
In Poor Little Soldier,Peter takes lead vocal. I donít know whether theyíve not sung this way before or Iíve never noticed but with Tim and, on this one, with Peter, the vocals are really well handled. I think this track is lovely, itís not overplayed, itís a great ballad and very Steeleye,. I suppose itís because itís written and sung by the bands longest serving member but I think heís definitely happier and stronger on this record than for some time.
Gay composed the following track, Arbour and the band are once more in an experimental stage. Gay is building bridges with band members, individually and together. With Peter it results in haunting ballads, with Tim it can be more surreal. Gay dreams it, Tim can play it and the beginning of Arbour echoes the start of Pink Floydís 1971 masterpiece, Echoes. It sends me a bit gooey really. For traditional fans I think it might be a bit frightening but if you listen to it again and again and ignore your preconceptions it will fall into place and youíll begin to really hear it.
There Was A Wealthy Merchant is more from Tim. Once again I have to say we could be listening to Bob singing. His music attached to these traditional words form a great platform for the band to expand on. He is really a very accomplished singer despite his not coming into the role until comparatively late on
Beyond the Dreaming Place shows how the experience of all the band allows them to hit just the right feel to a track. The keyboard backing and violin solo make for a wonderful arrangement and wheras Gay may have suffered from a lack of control over her musical style in her previous lives, Steeleye seem very attuned to how to get the best out of her work. With Peter writing the music, the finished product is great.
We Poor Labouring Men is one we have heard before. A traditional song treated with Tim and Gay singing well. Again, I feel their vocal treatments of these types of songs is quite new and one of the success stories of the whole record. Previously I suspect they may have had a more traditional chorus here.
OK, now time for the favourite. Time to get tingling. The Connemara Cradle Song has been played on tour and well but this has much more clarity and impact. Gay is doing what she does best and, to be honest, there is nobody that could do this one better. She has the passion and the experience and has become a stronger singer since rejoining Steeleye and itís all used to good effect here. As mentioned earlier, the band know just the right treatment for the quieter ones. I presume it is Tim who accompanies chiefly on electric guitar. Itís brilliantly produced, the instrument sits just under her voice so we can hear it distinctly but without distracting in anyway from the clarity of the vocal. Steeleye believe the music can speak for itself. They donít need to overdub to infinity. Each instrumental and vocal line on this number is spot on. And just as you are wringing out your hanky, Peterís fiddle comes in. Itís a great moment. So completely different from earlier albums and so original and yet the sound seems to echo down the years for all long time Steeleye fans.
At this point I said, "Hey this album isnít really as experimental as I had been led to expect". Then I heard Stephen. This is something that needs to be heard several times before things will really fit in. For me it came together only towards the end of the first hearing when I could work out what they were doing. Itís another big guitar track and the last of seven cuts to include Bob. Which brings us to track fourteen, White Cliffs of Dover. Youíve never heard it like this before. It is very experimental, very daring if you like. Gayís intro in the sleeve notes Ė "for G.M. crop activists" amongst others gives you an idea of the theme Ė and youíd be right. The lyrics are the same as ever Ė by Burton/Kent but the music is the very embodiment of menace. It is a contrast, intentionally so, of the ideals of the establishments England, represented by the lyrics and the more threatening erosion or those ideals and principles in the modern world. Itís a microcosm of the Steeleye fan base in a way. Many will undoubtedly listen to this and feel uncomfortable with it and yet why? The band after all and I suspect, many of itís followers today, started out in a generation where they themselves challenged the accepted status quo. If now we can no longer bring ourselves to appreciate songs like this, can we really say it is the group that has changed? Itís a moot point and, I suspect, one of great debate in the years ahead. Perhaps thatís why it was given the last track, to inspire thought and provoke listeners. Who knows? There will be many that donít like it or think the tone of the band has shifted too far one way or another. For myself, I think this is a landmark album. Firstly because we need to acknowledge the work of Bob Johnson for whom this is a swansong. There are some great numbers here from him. Secondly, the band has seldom seen a time of such great creativity. Anyone of the remaining members could comfortably fill an album with their own compositions. All three have worked well together to strengthen each others instead. Tim has come out as a strong lead vocalist, Peter has written some great Ď traditionalí Steeleye and Gay has provided us with what we had long waited for from her, some very moving ballads.
Only you know where Bedlam Born will rank alongside your favourite Spanners albums. For myself, there are several tracks in there that I think are as good as anything they have ever done before and others I want to hear loads more times. Anyway, the band are firing on all cylinders again and that ís good for all of us.
Nick Clark 2000