Now this IS what I call a Folk/Rock album.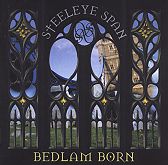 I LOVE this album. It could turn out to be my favourite of all time. I love every single track on it and for many different reasons.

My background in music is not in folk but mainly Blues, R and B. and Rock. If I tell you that some of my favourite bands in the '60's were The Stones, The Jimi Hendrix Experience, Cream, The Animals, Yardbirds, The Who........ you can see where I'm coming from. Back in the 'mists of time' (O.K. the late '60's then) I was seeing a lovely Irish girl, petite and slim with long flaming red hair, green eyes.....sigh... Oh sorry I digress. Anyway she took me to all the local folk clubs and I found that I loved this music, mainly for the tunes and stories but I did not like the 'weak' acoustic sounds, usually just 'backed' by one instrument or even unaccompanied. How I yearned for a rhythm section.
With the advent of Folk/Rock in the late '60's and early '70's my dreams were answered, in fact the 'whole' turned out to be greater than the two halves really (that sounds illogical - but I think you know what I mean) and, well, the rest is history. So I tend to get a bit nervous when I think these magnificent Folk/Rock bands are getting a bit too near the 'acoustic' side of the music. So this album is a big step in the 'right' direction, at least for me, although I know a few people will be a bit dismayed at this change of tack.

Two favourite tracks so far, as you've probably guessed as they are the rockers, are the tremendous 'John of Ditchford' and 'Well Done Liar'. If fact the instrumental break in 'John of Ditchford' has me in a state of rapture. Is that really a violin?

I also really love 'The White Cliffs of Dover'. It's beautifully menacing with a feeling of great foreboding, particularly in contrast to the rather 'hopeful' sounding sentiments of the lyrics, which makes them sound rather ironic now. This track makes me 'crackle' like static electricity. It also makes me think how different this England is now to the one that I grew up in. It was very brave to record this and it works. Startling!

'Beyond the Dreaming Place' is just too beautiful. It could have only been sung like this by Gay, her voice is just magnificent and the instrument sounds and arrangements are really stunning.

My goodness I do love this album.
Track list.
TITLE

WORDS

MUSIC

WELL DONE LIAR

Trad. (Adapted)

Bob Johnson

WHO TOLD THE BUTCHER
Peter Knight
Peter Knight
JOHN OF DITCHFORD
Eric Jenkins
adapted by Tim Harries
Tim Harries
I SEE HIS BLOOD UPON THE ROSE
Joseph Plunkett
Gay Woods
Arr. Tim Harries
and Gay Woods
BLACK SWAN
Tim Harries
THE BEGGAR
Trad.
Bob Johnson
POOR OLD SOLDIER
Peter Knight
Peter Knight
ARBOUR
Gay Woods
Tim Harries
THERE WAS A WEALTHY MERCHANT
Trad.
Tim Harries
BEYOND THE DREAMING PLACE
Gay Woods
Peter Knight
WE POOR LABOURING MEN
Trad.
THE CONNEMARA CRADLE SONG
Delia Murphy
Trad. Adapted from
the tune of
Down in the Valley
STEPHEN
Child Ballads adapted
by Tim Harries
Verse melody adapted from
'St. Nicholas, Godes Druth'
by St. Godric.
Other music: Tim Harries
THE WHITE CLIFFS OF DOVER

Burton/Kent

Burton/Kent
Arr. Gay Woods
Richard Hollis. 2000