Bedlam Born Review
Michael R. Davis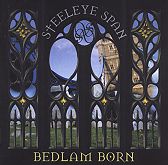 This is an exciting album! The folk/rock dynamics remind me of albums such as "Below the Salt" and "Parcel of Rogues", though with a maturity absent in the earlier albums.
Bob Johnson is at his rocking best with Well Done Liar. The band played this number last year on tour and I fell in love with it then, though the tour version was a rawer version. The energy and power of this song is reminiscent of "Two Butchers" from "Tempted and Tried." This song is a fitting tribute to the creative ability of Bob and has already rocket cottaged to my top two list.
Who Told the Butcher.
Who Told the Butcher is so craftily written, I wonder how many will be fooled into thinking that this song has deep historical import. It certainty sounds like a "folksong" and I wonder how much of the "sound" is also a gentle leg pull by Peter. I found the blending of Peter and Gay's voices as beautiful and as well done as any Peter and Maddy number. (Maddy fans don't kill me, as I still love Maddy also).
John of Ditchford....WOW!!!!, and I mean WOW!!! Tim Harries has been a sleeping wonder these past years. I knew Tim was an accomplished musician and arranger, but this exceeded my wildest expectations. Tim shines in this adaptation of a Northampton murder tale. Tim has done, as so many other Steeleyers have done, digging into their own heritage and coming up with gems. This is a moving and compelling piece and the fear and worry we have had with the leaving of Bob has been dispelled by Tim who has shown himself to be a worth successor to Bob Johnson. The guitar riffs are truly haunting and this could obtain "Thomas the Rhymer" and "All Around my Hat" status.
I was skeptical about the new electric violin, when Peter first mentioned he was trying it out. After last year's gig, the Feast of Fiddles, and a solo Peter Knight gig, I renounced my reservations. The octave violin was a magnificent compliment and counterpoint to Gay's vocal on I See His Blood Upon the Rose. This is the type of song which shows Gay's voice to the best effect; very emotive and warm.
Tim Harries continued to surprise me with the lovely instrumental, The Black Swan. Does Tim have a classical background??? Knowing him primarily as a rocker, I discovered another side of him with this baroque styled number, which after two "heavy" number was placed in the album. Acting much like "Canon by Telemann" did on the "Back in Line" album.
The Beggar, got a treatment by Fairport Convention on the "Red and Gold" album, but Bob Johnson has demonstrated how a song can be performed by two groups and be totally different. However, Bob's arrangement is much more gritty, with a hard rock edge which marks so much of Bob's best songs.
Poor Old Soldier was very much in the theme of "Fighting for Strangers", though Peter's current ballad is much sadder and more reflective than "Fighting." This song made me think of the parade of dwindling R.A.F. pilots who did a walk past during the Battle of Britain remembrances. The song is certainly thought provoking.
Combining Gay's poetry with Tim and Peter's subtle background music in Arbour was interesting and beautiful. At first I thought it out of place, though after several listening I though it a nice bridge between the two halves of the albums.
The opening chord progression of the There Was a Wealthy Merchant stole my heart. Gay's voice is as much an instrument weaving with the backing instruments. Dave Mattacks (whom I haven't mentioned yet) gave the drums a sensitive and delicate treatment which complimented the song.
Beyond the Dreaming Place was another tour de force for Peter's Octave Violin and Gay's soaring vocals.
We Poor Labouring Men drove me crazy because the melody line seemed so familiar. I searched through all my other Steeleye albums and the opening lines have a really similarity to "Little Sir Hugh". However, after the first lines, all similarity ends as this traditional song spins off with a wonderful character all its own.
The Connemara Cradle Song was least favourite song of the album. I am afraid this song was ruined for me by country singers in the United States who butchered the song, "Down in the Valley" on which the beautiful words were set. When I first heard this song was going to be in the album, I was hoping it was going to be another "The Water is Wide." So this was a double disappointment for me.
Another powerful instrumental introduction ushers in Stephen. The bass is powerful in this with the octave violin and drums striking almost a dirge as Tim sings the melody and Gay soars high above with an unearthly accompaniment. The whole effect is unworldly and moving.
Gay's arrangement of The White Cliffs of Dover is affectionate, though there are strange noises coming from Peter who seems to be improvising against the vocals. It works well.


Michael Davis. 2000