THE BOB JOHNSON INTERVIEW
by nick clark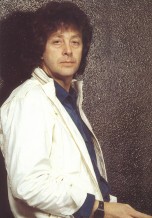 Photo by Richard Butchins

THE EARLY YEARS : THE SEVENTIES

"All Around My Hat was very much geared to being a hit....we expected it to be. The first time we played it the audience responded...overwhelmingly"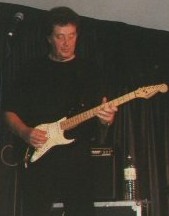 PHOTO: NICK CLARK

THE EARLY YEARS : THE SEVENTIES
At the end of 1971, Steeleye went through a period of change. After a successful year which saw 'Please To See the King' in the UK charts and a British tour, Ashley Hutchings left to pursue a more traditional folk style with the first of the 'Albion Band' line-ups. At the same time Martin Carthy decided to quit- over the introduction of an accordion player that the other members disagreed with and the band suddenly had a recruitment problem. The year 1972 saw this solved with the arrival of bassist Rick Kemp and an old friend of Peter Knight's, BOB JOHNSON. The new group signed to the Chrysalis label, acquired a new manager and entered it's most commercially successful period to date. Although more personnel changes occurred over the years, even the departure of Maddy Prior whose voice had been the sound of the band for a quarter of a century, the core of Peter Knight's fiddle and Bob Johnson's guitar maintained the familiar Steeleye sound. Coming back into the band after a gap of more than twenty years, lead singer Gay Woods summarized it well when she told 'The Unofficial Steeleye Span Website' last year, "Once they get to it - this magic, when Peter and Bob riff together.. that's their sound". After twenty eight years playing it is hardly possible to imagine the group without either of them so when I got chance to talk to Bob, I asked him first what he did before the band and who his early influences were....
Immediately prior to joining Steeleye I was working as a Computer Systems Analyst at the Performing Rights Society in London, a serious, pensionable, steady job. Before that I had been playing in folk clubs with Peter Knight. My beginnings were in early Rock'n'Roll and very ethnic blues - Robert Johnson, Muddy Waters, Howlin Wolf - a very similar set of influences to my contemporaries. Also ethnic country music - Hank Williams, Don Gibson, George Jones, but the early stuff. As a guitarist I listened to Chet Atkins, Duane Eddy, The Ventures and a lot of black blues artists. I joined South London rock groups including Gary Glitter (or Paul Raven as he was known then). The main requirement was to sound as much like the American originals as possible. However my family background was classical music - my mother played the piano and my grandmother, the violin. My earliest musical memories are of sitting quietly in a corner of the kitchen whilst my grandmother practiced the violin - no change there! This plus a classic 1950's exposure to English music at school, led to an interest in traditional British music. The penny soon dropped that a historical thread could be traced from folk music through to country music (American) and rock 'n roll.
In the 1960's, I used to go to folk clubs on my own and sit and listen to Martin Carthy, Bert Lloyd, Ewan McColl etc, fascinated by the whole genre and it's historical roots. Martin Carthy towered head and shoulders above all of them. His ability to get inside the story and make time stand still captivated and inspired me. At that point I began to think in terms of using my rock background to interpret folk music differently but I was not in any group and I had no outlet for my ideas.
How much did you know about Steeleye before you joined and what did you think of them?
I knew a lot about Steeleye because of all the reasons above and because Peter (Knight) was asked to join it before me whilst we were still playing together. I thought it was wonderful because Martin (Carthy) was in it but the 'Liege and Lief' album by Fairport was more groundbreaking because it leaned more towards rock. This album was a true landmark. You must also remember that both these groups had the most incredible players and singers in them, the like of which we rarely hear today in the same group. When an entire band is playing and singing brilliantly with material that they all understand and love, the impact is powerful. Unfortunately, this rarely happens and when it does the phenomenon is short-lived because everyone wants to become a solo performer. This is based partly on ego and partly on a failure to understand that the whole is greater than the sum of it's parts.
How did you come to join Steeleye and what were your early impressions of the band?
When Martin Carthy left Steeleye, Peter (Knight) persuaded the others to let me join so I left my steady job and bought some jeans! My early impressions were that I had joined a group of extremely talented people who could sing and play exceptionally well. At the same time there was an air of innocent arrogance which I did not recognise, not having encountered it before. They were not fighting against poor backgrounds and they had not 'roughed it'. I remember that Rick Kemp noticed this as well- both of us having had similar backgrounds in the world of groups. I also remember being so impressed by the sound of Tim (Hart) and Maddy's voices together and that they had no desire to take a lead vocal! They were like a folk version of the Everly Brothers, a unique sound. My instinct and common sense told me to let them get on with it!
You joined Steeleye as the group moved towards its most commercially successful phase to date. Was it a deliberate move by yourself and the band to aim for chart success?
This is a difficult question to answer. Rick Kemp and I came from electric rock and pop backgrounds. The others did not. Naturally we played in a more 'modern' way so the songs now rested on a totally different style of accompaniment. There was also more energy and 'muscularity' - an approach which Rick and I shared.
Our manager at the time moved us into a more popular arena and we responded accordingly. One thing fed another I don't think we aimed at the charts, it just happened. An exception to that is the song 'Gaudete' which I heard being sung in Cambridge and I immediately thought it sounded like a hit. I don't know why, it's the only time I've ever thought that. In the case of 'All Around My Hat' it was very much geared towards being a hit by Mike Batt. We expected it to be a hit, an expectation that was reinforced the very first time we played it at a festival in Blackpool. The audience responded to it overwhelmingly.
How do you view that line-up of the early 1970's with the benefit of hindsight?
Obviously that was the successful line-up. It had a quirky, unique blend of people from different backgrounds, all of whom brought their energies to bear upon a music form which was timeless and not idiosyncratic to any one member of the group. It was not necessarily a better line-up than the current one. It's just that 100% energy and time were invested in the band by its members and its management - and we were young!
Do you have any favourites amongst the tracks from that period?
My personal pride is in 'Gaudete', for being able to hear its special quality, 'Thomas the Rhymer' and 'Long Lankin' - for managing to impart two fascinating stories in a way which successfully merged all of the musical influences of the members and their different musical backgrounds.
Many of your songs from that period were drawn from traditional sources. How did you come across the material and who then provided the music and arrangements?
In the early period there was no question of the music not being traditional. That was the project and uniting force. On 'Below the Salt', 'Parcel of Rogues', 'Now We Are Six', 'Commoners Crown' and 'All Around My Hat' the pattern tended to be the same. If Maddy brought in a song we would all arrange it together in rehearsal. If I brought in a song, the bulk of it had already been arranged by me at home on my ancient Revox tape recorder. Certainly this was the case with 'Thomas', 'Long Lankin' and 'Alison Gross' for example.
Maddy's songs were, for the most part, traditional melodies, whereas I would occasionally write the melodies and chord structures, as in the songs mentioned above. All the lyrics were traditional. In rehearsals Peter (Knight) played the dominant role in arranging the 'top-end' of the song including vocal harmonies. Rick (Kemp) and I would work on the rhythm end and construct guitar and bass riffs together. This 'top and bottom' approach became a major part of our sound until the drums came. The drums changed the picture slightly.
As regards our sources of material, Maddy, Tim (Hart) and I had both started collecting favourite songs and books from the sixties onwards. We had been present when the folk movement started to blossom in this country. The Cecil Sharpe House Library in London was a wonderful source of books. Peter (Knight) was aware of Irish music and had played quite a lot of sessions in Irish pubs in London.
In the middle of your most popular period you got a television series on BBC2. How did that come about and what do you remember of it?
Our manager Jo Lustig got us the series. The only high spot I can remember was having Stanley Unwin on one week as a guest. What a clever and funny man! I did not particularly enjoy television or the effect it had, or has, on music.
Recently the albums from the 1970's have been remastered onto CD. Do you have any particular favourites from them now?
The album that stands out for me is 'Parcel of Rogues' for it's youthful, vibrant and uncompromising SOUND. No beastly digital nonsense, just raw amplified music.
Many fans still consider the music of the seventies as their favourite of all Steeleye's material. Do you still feel comfortable performing it on stage?
The reality is that there is very little material which has survived that early period if you discount the two hits. 'Thomas' and 'Long Lankin' survive, although their rigidity of arrangement (my fault!) is very much based in the seventies. The current line-up seems to be happier with more free arrangements, although I personally still feel a tendency to throw in the odd formalised pop arrangement - like 'Well Done Liar'
For Peter (Knight) and me, twenty eight years is a large part of our lives. We MUST have changed a little and therefore our life and music will have changed. Tim (Harries) was not part of that early period and Gay would, quite understandably, not feel 100% comfortable singing songs which were totally personal to Maddy since one needs to identify with a song before one can sing it. This is not necessarily the case when playing an instrument.
In the past the fans used to shout for a particular song so it was fairly easy to spot the favourites. Now they don't - or I'm going deaf! However, the music is still timeless, traditional music now being interpreted by NEW people as well as OLD people who have changed. The style of sound remains pretty much the same to my ears. I would feel more comfortable not trying to recreate the past. That would give me more of a feeling that there was an interesting future ahead.
This is the end of the Bob Johnson Interview Part One. The interview was conducted by Nick Clark exclusively for 'The Unofficial Steeleye Span Website' and remains copyright to Nick Clark. The second part will deal with the turbulent years of the 1980's.
Interview carried out in June 2000