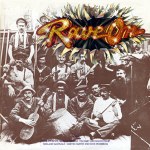 B & C (Crest 17)
Released:- 1974

This L.P. contains other artists besides Steeleye and also Steeleye Span member's solo projects. Artists that have not been members of Steeleye Span are shown in brackets next to their tracks.
SIDE 1.
SIDE 2.
1. Rave On.
1. Just As The Tide Was Turning. (Shirley Collins and The Albion Country Band).
2. The Ploughboy and the Cockney.
2. Cannily, Cannily.
3. Westron Wynde.
3. Matt Hyland.
4. Banks of the Bann (Shirley Collins & The Albion Country Band).
4. Of all the Birds.
5. Cold, Haily, Windy Night.
5. The Bank (With Dave Swarbrick).
6. Let No Man Steal Your Thyme. (Shelagh McDonald).
6. Marrowbones.
7. Lovely on the Water.
The information for this entry from Brian Thewlis.
Thanks to Musikfolk for the cover scan