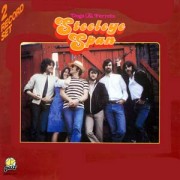 DOUBLE LP. CRPDL2-1021
Released:-1982/3.

SIDE 1.
SIDE 2.
1. Little Sir Hugh.
1. Galtee Farmer.
2. Bach Goes to Limerick.
2. Demon Lover.
3. Long Lankin
3. Elf Call.
4. Dogs and Ferrets.
4. Weary Cutters.
5. New York Girls.
SIDE 3.
SIDE 4.
1. Black Jack Davy.
1. Gamble Gold/Robin Hood
2. Hard Times of Old England.
2. All Around My Hat.
3. Cadgwith Anthem.
3. Dance With Me.
4. Sum Waves.
4. Batchelors Hall.
5. The Wife of Ushers Well.
The above compilation is a re-packaging of the Albums 'COMMONER'S CROWN' and 'ALL AROUND MY HAT'. See Original Albums section.
The information for this entry from Irv Horowitz
Cover scan from Musikfolk.