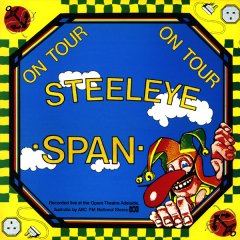 LP. Chrysalis L37968
Released:-1982/3.

SIDE 1.
SIDE 2.
1. The King.
1. Thomas the Rhymer.
2. Black Jack Davy.
2. I Have a Wish.
3. Sails of Silver.
3. Longbone.
4. Little Sir Hugh.
4. I Live Not Where I Love.
5. Let Her Go Down.
5. Gone to America.
6. Alison Gross.
6. Gaudete.
7. Bach Goes To Limerick.
7. All Around My Hat.
This LP. was recorded Live on Steeleye Span's tour of Australia.
The information for this entry from Walter Speckmann.
Cover image suppled by Raul Branco.