THE GAY WOODS INTERVIEW
by Nick Clark.
"I do what I do - if they like it fine.
If not, well what can I do ?'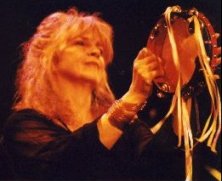 Photo: Ian Burgess

PART TWO: THE JOURNEY

In this, the second part of my interview with Gay Woods, we discussed the release, after four years, of 'The Journey' which was recorded live in 1995 (see review on this site). Because of the time when the event happened this inevitably led on to Gay's subsequent replacement of Maddy Prior as the bands lead vocalist. Whatever your opinions on this - mine are well documented in the previous part of this interview, you have to admire the sheer determination that she showed to go out on the road with Steeleye and be not simply a replacement but a major creative force in her own right.


What do you think of 'The Journey'?

I enjoy it as a piece of time.It seems a long time ago now for me - just doing that day. It's very good for Steeleye Span fans - they can just enjoy it.

Do you see that as the old you then - that you were just brought in to do a job?

In a way I do but I think I came out - my individuality coming out in 'The Water Is Wide'.

'The Water Is Wide' is better on 'The Journey' than it is on the album 'Time'.

Yes it is - it was in its very early stages - we had only played it five times and we never performed it on stage and so you can see what it is like when we do it - it's becoming increasingly a symphony orchestra because it's picking up life experience obviously. It's a biographical song for goodness sake but it is very sweet on 'The Journey' yes. I love live recordings, they just catch people at a moment of their life. I've been saying this - I would love to have a live CD out. I hope that we can do that or maybe we have done it because we have been recording on the last tour.

'The Journey' must have been a difficult album to make because you were on the verge of replacing Maddy.

It wasn't easy I'll tell you that. It wasn't easy for her, it wasn't easy for me and we just got on with it and did it but it wasn't an easy situation. It was very very hard for Maddy.

Presumably at that time she knew she was going to leave.

Well her voice problems were really upsetting her and they would. Any singer who starts to have problems it must be awful but I think, I don't want to get personal at this stage, but me being there at the beginning and then going and she there and carrying on, there was a lot of STUFF lying around. It wasn't handled very healthily. I have trained as a psychotherapist so I have a bit more understanding of these things and can weather them but when you don't have an understanding you can just react differently. It was tough on her.

So did you think when you went out on your own it was going to be tough?

I knew there would be projections from audiences but I didn't care - I do what I do - if they like it fine. If they don't, what can I do? I just sing. It's not that I'm a politician or going out to save the world. They're not huge issues.

'The Journey' is a bit of a Who's Who of the folk world isn't it?

Yes - look at what people have gone on to do.

Tim Hart for example - his three songs on disc 2 (mark IV line-up).

The real traditional ones. I love those don't you? I've listened to those three times and I'm going to listen to them again. I want to learn some of the English tunes because they are just so gorgeous.

Isn't it interesting that you can get 'Cam Ye O'er Frae France' and 'The Blacksmith' on the same album?

Yes - a band that has been around for thirty years needs something like 'The Journey' they really do - it liberates you to go on further. It's a great thing to do - the fans will love it.

It's a great recording as well isn't it?

The soundman did a good job. I actually didn't know what they were doing. I was only just there. I actually took care of my own daughter and Maddy's for most of the day while she did the concert. I was like the au pair going up - sang a few songs, had a few beers and had a great day so it was fun. I didn't take it very seriously so now it's out on CD which I find highly amusing.

There's, as yet, no video. Was it taped?

I hope not! I don't know - you just wait with Steeleye Span. No they did a video of the Croydon gig that the band did and we're looking forward to seeing it.

That's going to be commercially available?

I'd say so. It's going to be used to promote and it was just a fantastic gig. It was one of the best on the tour.

Did you play the standard set or did you do new stuff as well?

Well we just did one set because we shared the bill with 'Pentangle' - most of the second half ( of the regular show) and three songs from the first (see review of Newark on this site for set list). I'm looking forward to seeing that just because we had such a good time and the audience went crazy and we all had a great night. I hope the camera captured it and the sound was good.

The first line-up of Steeleye you were in never performed live at all did they, until 'The Journey'?

It was lovely - I really enjoyed that. We had one days rehearsal. It was gorgeous to do that again. It's a pity that Terry Woods didn't come.

The sound was very much like 'Hark The Village Wait'.

I know - it was lovely to see everybody again, nobody's dead yet, touch wood, like some groups that have been around even half the time and it was great to see everybody alive and well. It was a great thing to do - very tempting to do those early songs again, particularly 'The Fishermans Wife'. It's a lovely thing.
11th. Dec.1999


That concludes Part Two of The Gay Woods Interview. The text is copyright to Nick Clark, 1999. No part of this interview may be reproduced or stored in anyway without the consent of the copyright holder.