THE GAY WOODS INTERVIEW
by Nick Clark.
'Audiences were certainly reluctant to see
electric music going into traditional folk'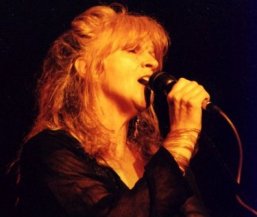 Photo: Ian Burgess

PART THREE - HARK THE VILLAGE WAIT

In this, the final part of my interview with Gay Woods, I talked to her about her participation in Steeleye's first album, 'Hark the Village Wait' back in 1970. As is well known, Gay left the band after the record was made and had little contact with them until she rejoined twenty-five years later. She told me about her involvement in the project and the background to it and the events leading up to the creation of Britains greatest folk rock group. I began by asking her what her impressions were of the album nearly thirty years on.


It's a lovely album because it just captured the five people at that time in their lives - we were so young, what was I ?
Twenty-one or something.
When was 'Hark the Village Wait' actually recorded?

It would have been late '69. I remember because it was wintertime and it was snowing and all the rest of it.
What led up to it ?

Well, I was married to Terry Woods then and he went over to England and met Ashley Hutchings and Ashley was wanting to form another band after Fairport because he had left them and wanted to do his own thing and Terry joined up. I went over to get a job as a typist - the old story so Terry said that I could sing, because I had always sung here in Ireland with my brothers and with Terry. I came from a singing family so they said, "Oh well, do you want to sing?". It was all very casual, there was no record deal, nothing. We just did it - like the way kids do nowadays. We had to set up in Ashley Hutching's bedroom and sing a few songs and see what we wanted. Then Tim and Maddy were asked and they decided to give it a go and that was how it formed. Terry Woods and me moved down to a place in Wiltshire and Ashley moved down south and Tim and Maddy came into it whilst they were doing the folk club gigs.

Was it a loose arrangement then ?

Oh no, there was definitely a project. Ashley Hutchings and Terry Woods were the mainstay - Terry had a huge repertoire of songs and a huge energy as well for playing. He was really into it. So was Ashley - he was the sort of driving force - the English connection. So we got a record producer and we got a deal - RCA and we were just astonished. I got a job as a typist and I had it about a week but I think that was the catalyst. When I went off to work down in London, they got the deal. I got a lovely phone call one day saying "Gay, we've got the deal- you've got the job". I was out there like a bullet!

What was the mood like in 1969 for traditional folk music?

Well it was very folk clubby, although Fairport had done 'Liege and Lief' but before that in Ireland 'Sweeney's Men' had brought in Henry McCulloch to play electric guitar with them. I had been to the Cambridge Folk Festival in 1968 to watch them and they were booed off the stage for applying an electric guitar but they got on and they did their short set but audiences were certainly reluctant to see electric music going into traditional folk music stuff.

Do you think the album goes beyond what was being done at the time?

I think it has a certain identity about it that no one else captured at that time certainly. It has to do with the songs we chose how Ashley Hutchings plays the bass - I love bass playing. I think it's an integral part in that change of how traditional music was carried on, particularly with the instruments Terry Woods used. As well as that the two women singing - the collision of nasally English singing and throaty Irish singing - just a big bowl of ingredients that made it sound like it did with traces of sweetness. Although I have to say the people weren't sweet to each other whilst they did it.

That's presumably why it didn't last beyond one album ?

Then the fighting started because there were some clashes of personality so that was the end of that!

Gerry Conway was on the thirtieth anniversary tour - he did the original drumming on 'Dark-Eyed Sailor'.

He did and it was lovely to sing it with him again. It was a joy. He's really the only one that could play it - I've told him that.

The album has gone through quite a few re-issues hasn't it? Were you aware of the burgeoning interest in it back in 1990 when Shanachie put it out ?

No, I was completely out of Steeleye Span. I had no communication whatsoever until one day, I think it was in October 1994, I had just got my diploma and was about to begin more work to become a therapist and I got a phonecall to say would I join them for one tour and I stayed with them. I thought it would be for one tour - I really did. I didn't want to get involved in that world again but I am now - up to my ears.

And presumably happy with it?

Very happy with it and very happy with the music.

Have you got any particular favourites on 'Hark the Village Wait' or any of the other Steeleye albums?

I love Maddy's rendition of 'Searching for Lambs' - I love that song. I think the arrangement - Tim Harries did the arrangement - is absolutely beautiful and I also love 'Copshawholme Fair'- I love that song because it mentions "Kale plants from Orange" or something and being a farmer- well I'd love to be a farmer, I just love anything that mentions vegetables. I love the words of that song.

Does the album stand up with what came afterwards?

Oh it's completely different - it's on it's own - a completely different sound from what they started to reproduce. There's no fiddle in it, the fiddle took over then. When Terry Woods and I went on to do our own stuff we took an oath we would never have a fiddle because it had just become the club sound. It's great that Peter drops fiddle sometimes and plays keyboards because he has that ability but at that time music became just folky music with a fiddle riff - you had to have a fiddle in the sound.

From what you say you have presumably gone through the Steeleye back catalogue pretty extensively?

Yes I did for a while. I listened to a lot of the stuff. I loved 'Cruel Mother' off 'Tempted and Tried' - that's a very, very good record - I like that very much. The guitar solo is exceptional. I think the album is one of their best. I haven't listened to everything - I couldn't. Some of the stuff they wrote themselves, I'm not very fond of that. I like the archaic songs. Music has changed so much and I think it's great that this band is still performing.

Is this forthcoming album, making two in three years, a sign that Steeleye is more popular now than over the last two decades?

They hadn't recorded because they had become stale and had got fed up with it - which is only natural. I suppose when the new people came in and they had a new singer who didn't have voice problems (that held them back a lot because Maddy couldn't tour sometimes) they could just do what they liked. Touch wood my voice is holding out and I love music so much. That is why we are going to record again. Plus we are selling the stuff so there is renewed interest. I love playing live, it's my favourite way of playing. I love audiences and the reaction we've got off the audiences on this tour has been fantastic. That's all you need to keep a band playing....
13th. Dec. 1999


This is the end of the Gay Woods interview. The interview is copyright 1999 to Nick Clark and reproduction in whole or in part is strictly prohibited without permission of the copyright holder.