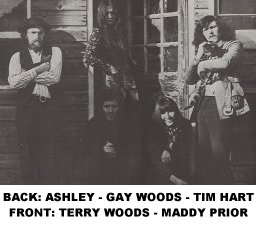 Ashley (Tyger) Hutchings can safely be described as the 'Godfather' of British Folk/Rock. Not only was he part of the first ever proper Folk/Rock album,'Liege and Lief' by Fairport Convention, but the founder member of both Steeleye Span and the many versions of 'The Albion Band' where you can still find him. In fact it was the album 'Leige and Lief' that changed Ashley's musical direction as now he wanted to concentrate solely on this type of music, so he left the Fairports, who still weren't quite sure.
At about this time Gay and Terry Woods (ex - Sweeny's Men) were looking for musicians to start a new band. As Ashley had had ideas of joining Sweeny's Men he suggested two people that he had met at the 1969 Keele Folk Festival, they were Tim Hart and Maddy Prior.
The band started rehearsals in late 1969 and in March 1970 they recorded their first album, 'Hark! The Village Wait'.
The name Steeleye Span comes from the Lincolnshire Folk Song, Horkstow Grange, and it was singer, Martin Carthy who first showed it to Tim Hart in Percy Grainger's collection of folk songs. There was a vote by the band members on the name for the band and Tim Hart cheated by voting twice. The song, Horkstow Grange, has only recently been recorded by the band on the 1998 album surprisingly called 'Horkstow Grange'.
This line-up only ever produced the one album and were fated never to tour.

Copyright Richard Hollis.1999.