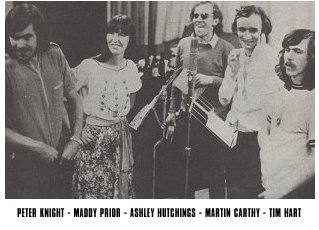 Do to differences within the band Gay and Terry Woods decided to leave shortly after the recording of Steeleye's first album, Hark! The Village Wait. So the hunt was on for new members, so Tim Hart enlisted his old friend, singer and guitarist, Martin Carthy.
After rehearsing for a while as a four piece the band decided that they were in need of another instrumentalist so they enlisted the aid of a young fiddle player called Peter Knight who was then working as a music salesman for Boozey and Hawkes and was a classically trained violinist.
In the summer of 1970 the band played before a live audience for the first time at the Cambridge Folk Festival, and in October had their first British tour. During this time Steeleye were recording their second album, Please To See The King for B and C. It was released in March 1971 and reached No.7 in the British charts. At this time they opened for Jethro Tull on their major British tour. (See poster below).
In the September of 1971 they recorded their third album, Ten Man Mop, and in the Autumn of that year had their own British tour. At the end of this tour Ashley decided that he wanted to leave to concentrate more on English folk music and less on Irish. He left in the December of 1971 just after the release of their single, Rave On.

Copyright Richard Hollis. 1999.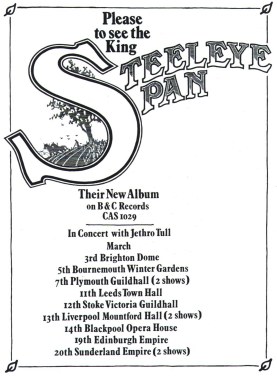 Thanks to Nick Clark for poster scan