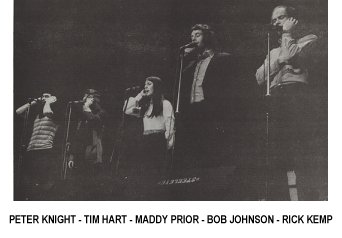 After Ashley Hutching's decision to leave the band at the end of 1971 Martin Carthy also decided to quit. Their two replacements were a big surprise to many as both came from a rock background, guitarist, Bob Johnson and bass player, Rick Kemp. But they were inspired choices as this was the start of the bands most commercially successful period.
They were now under contract to Chrysalis Records and they spent the early part of 1972 rehearsing with this new line-up. Their first concert was at Bath at the end of January followed by a British tour and later an American tour supporting Procol Harum.
1972 also saw the release of this line-up's first album, Below The Salt, but after the release of the next album, Parcel Of Rogues in 1973 it was decided that the band should look for a permanent drummer to take some of the pressure off bassist, Rick Kemp.

Copyright Richard Hollis.1999.