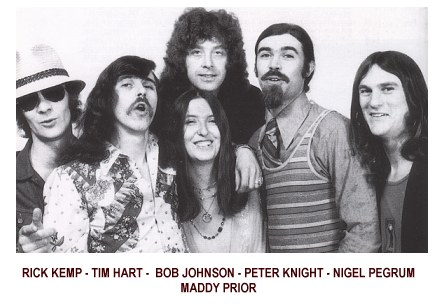 Parcel Of Rogues saw the use of drums reappear. Rick was frustrated by being solely responsible for holding the rhythm together as he was used to drums. Steeleye were set to tour America with Jethro Tull where they were to play huge stadiums so they decided to bring in a drummer. Nigel Pegrum was not only a solid drummer but also a flute player. This combination was perfect. He was patient and hardworking taking on the demanding job of making sense of all the different points of view thrown at him. Steeleye wanted the music supported, not pinned down A hard task
After the tour with Jethro they recorded Now We Are Six, appropriately titled as it was the sixth album and there were now six in the band. Ian Anderson came in as 'production consultant' and it was recorded at Morgan studios with Robin Black as engineer. A track on this album, To Know Him Is To Love Him, has David Bowie playing saxophone.
In 1975 Steeleye recorded Commoner's Crown. It's cover was a delicate and detailed sculpture of human models making up a crown. Robin Black produced it along with the band. Peter Sellers plays ukulele on the track New York Girls and also added some unprompted 'Goon' voices.
The album, All Around My Hat, was the peak of Steeleyes commercial success. Tim Hart had had one of his brilliant ideas and suggested Mike Batt as producer. The others laughed as they had only seen The Wombles, a children's story about creatures that collected litter on Wimbledon Common in London, as a novelty item. Tim had bought the albums and realised the great talent and creativity that had gone into their making. Beautiful melodies, light and humorous lyrics and sound arrangements all done by Mike Batt. He was perfect. He gave them their heads and watched perplexed as they did their Steeleye thing. He recorded it all impeccably then added a small amount of arrangement where appropriate.
The album sleeve was designed by a school friend of Tim's, John O'Conner, and he was working on anamorphic projection which had been used since the 17th. Century. It was a style used for salacious or seditious material. For example in the case of for Bonny Prince Charlie where they devised a way of drawing a picture round 360 degrees or distorting a picture so that it didn't look like one, but when you stood a bottle of claret on it Prince Charlie appeared in the bottle. Somehow the idea seemed to go awry when applied to the sleeve and the result was rather odd caricatures.
The single of All Around My Hat took them into the charts and onto 'Top Of The Pops' again. They had previously appeared carrying candles for Gaudete. This time everyone was dancing.
The album Rocket Cottage was again produced by Mike Batt but did not achieve the same peak of popularity as 'Hat'.
The famous bands of the time were starting to put on massive shows with lighting rigs and sophisticated PA systems, they had a polished and expensive style and young people increasingly with less money and fewer places to play live to learn their trade responded, as people have always done when faced with a frustrating and unsolvable dilemma, they moved the goal posts. Suddenly long hair and flashy guitar techniques were rejected and the shaved head, safety pins and workman's boots established themselves as new reference points. Punk was born.
Maybe it was these other pressures, but more likely the hectic touring/recording/rehearsing schedule that finally took its toll. Exhaustion and a desire for variety spurred a dispute that ended with Bob Johnson and Peter Knight leaving the band to work on a project dear to their hearts, that of the King Of Elfland's Daughter which was finally made and incorporated the talents of Mary Hopkin, Frankie Miller, Chris Farlowe and even Hammer Horror star Christopher Lee. Maddy Prior had recorded Silly Sisters with June Tabor and was starting work on a solo project. Rick, Tim and Nigel all had outside music business interests. There was of course still outstanding work to be done and they were assured by their management that it would be 'bad news' to cancel, so the hunt was on again for new members.

Copyright Maddy Prior, John Tobler and Lynda Morrison.1995.
Taken from the sleeve notes to 'Spanning The Years'.