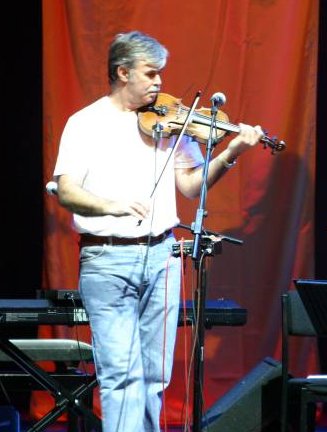 Photograph by Chris Bates

THE PETER KNIGHT INTERVIEW - PART TWO.

10. In the late 90s/early 2000s after Liam, Gay and finally Tim Harries had left did you think that Steeleye were finished or were you confident that it would survive in some form?
As the last man standing, the future of Steeleye did rest with me and for a long time I wasn't really sure what to do about it. The Band had been around for over thirty years and to be honest, that seemed as though it should be enough and time to call it a day anyway. So no, at that point I wasn't confident about its survival and there were moments when I really didn't want the Band to reform.
Obviously, I was acutely aware of the fact that there were many people out there who were desperate to see the Band back together, and it wasn't rocket science to figure out that the most popular decision would be to have Maddy back, and preferably other names associated with its past. It was the only way to go really.
I was sorry that as Steeleye was about to rehearse for the reunion Tour, Bob Johnson decided that he couldn't do it. We lucked out with Ken though. He had big shoes to fill and he has done the job perfectly.
Now we are facing 40 years, and inevitably it is time to start asking the same sort of questions regarding Steeleye's future. We will be doing that soon, so it will be interesting to see what cards are put on the Table. :-)

11. Besides Steeleye Span you have many other musical projects, Feast of Fiddles, Tanna, your work with Trevor Watts etc, but one of the most exciting is Gigspanner (which I think is slang for a bottle opener), with Roger Flack and Vincent Salzfaas. For anyone who hasn't heard Gigspanner yet, how would you describe the music and in which direction musically do you see the band going? How did you meet Roger and Vincent and do you see the band adding extra members in the future or would this compromise the unique sound of this three piece?
For me, the best experience that I can have in the moment of playing is feeling that I never want the music to end. In Gigspanner this happens all the time. There are moments when I look over at Roger and Vincent and I can see and feel that we are all in the same place musically, and that none of us want to break the spell.
How would I describe the music? There's a question. It's a mix of all that I enjoy playing for all sorts of different reasons. I do sing and play a blues that I learned from Chris Smither years ago when Peter Bellamy brought him over from the States for a few gigs. It gives me a chance to rip into pizz violin. We play quite a lot of trad based material, that is not limited to just British. The Music cross references many genres. When we feel that we are in the right place, we leave the framework of whatever we are playing and head off into something improvised. The improvs that Gigspanner play are totally accessible, and can be the most rewarding element of the Gig for us and the Audience.
To answer the question of where we are going, we are at that stage now where we will be working on new pieces. Our first CD is finished and being pressed as we speak, and that sort of marks the end of this period. Something will change now. We rehearse tomorrow and will work on a few ideas.
My partner Deborah is concentrating on getting dates in for next year (Steeleye and Feast of Fiddles commitments allowing) including a tour when we hope to be on the road for a couple of weeks. We have some great venues lined up including The Huntingdon Hall, Worcester, The Ashcroft Arts Centre, Fareham and The Mill at Banbury to name but a few. You never know. That might be the end of it. :-)
I met Vincent Salzfaas through a Gig I played with Trevor Watts. Vincent was in the audience and must have enjoyed what he heard because shortly afterwards he contacted me to suggest that we play together. We Gigged as a Duo for a while until Roger joined us.
Regarding introducing other musicians into the band, that does happen spontaneously now and again. Hastings is bursting at the seams with Musicians, and so when we play the Jenny Lind invariably someone will be there that we know. In the past, Fiddle player Garry Blakely has joined us for a few numbers, one night a Bass player joined in and next time we play, Trevor is bringing his Sax down to have a blow with us. That will be a great gig. :-)
In the long term, I am sure that we will collaborate with some other Musicians to provide texture and added interest. The Music lends itself beautifully to it. I do have a few people in mind.
The really exciting news as far as we are concerned is the release of our Debut Album 'Lipreading the Poet' on the 5th of November.
You can even order a copy now by following this link:
http://www.peterknight.net/sales.htm
For more information on Gigspanner check out this link:
http://www.peterknight.net/gigspanner.htm

12. You have just finished a very successful workshop, will there be more of these? What actually happens at a workshop?
You'll have to pay your money and find out Richard. We tried to get you there. Now you will never know. :-)
It's simple. I can create short cuts for people, and open doors for them to explore what lies beyond. The thoughts and feelings that everyone invests into making music obviously share a common thread because they are the thoughts and feelings common to mankind. Some thoughts and feelings are constructive to creating music and some aren't. I can help with this. I know how to deal with those things that prevent the true nature of an individual's music from emerging. It doesn't take much negativity to stop the creative process.
In terms of what happens at a Masterclass, you can read more here. These are accounts from two previous participants, so maybe it is best to let them answer that part of the question.
http://www.peterknight.net/masterclass_testamonials.htm
However, there is no set agenda, and a priority is to identify what each participant wants to take away with them and to take it from there. Whilst I am engaged in resolving each individual issue it presents an opportunity to take the whole group on a musical excursion during which they will discover something that is applicable to their playing anyway. It is an emotional process, and draws the whole group including me, much closer. We have a unique bond at the end of it all.
And yes, there is a second one in the offing. A series of events arose that paved the way for me to undertake one in Cornwall in November. The location is truly second to none, and in itself makes it worth the investment in a Weekend away. It is being held in the Village of Kingsand on the Rame Peninsula, also known as 'Cornwalls forgotten Corner'.
Gigspanner will also be playing a Gig during the weekend, which forms part of the Masterclass experience and is open to all. Because it is so close to the release of the CD, we are celebrating by calling it the Album launch Gig, although we will be planning another one closer to home. Probably in Rye.

13. Following on from that last question, do you give private violin tuition, and if not, would you ever consider it?
I am considering it Richard. The Masterclass from my point of view was a success, and I do now know that I can pass on certain things that maybe musicians wouldn't discover for themselves. I would probably just work with violin players one to one, simply because I have more understanding about the instrument and its capabilities. However, it was great having the sound of the guitars and the fiddles during the Masterclass. It would be interesting to have other instruments in the mix too.

14. We know that you can play violin, mandolin, keyboards and guitar. Are there any other instruments that you play and are there any that you would like to play?
Not really. A brick layer may also be able to do a bit of plastering, wiring and plumbing but probably not to the standard of an electrician or plumber. It's like that for most musicians. They have their main instrument but they also dabble with other instruments. I have played and enjoyed all sorts of instruments over the years, but have never been interested in spending the time necessary to become what I consider to be proficient. The keyboards and guitar I have mainly used as song writing tools.

15. Is there is any instrument that you would like to see banished from the world forever? If so, what would it be?
No. Blame the owner for a barking dog and not the dog. The sound source doesn't matter. What matters is what the musician plays and why.

That concludes the second part of the Peter Knight Interview.
Many thanks to Peter Knight for doing these interviews!
Don't forget besides his work with Steeleye, Peter has an active solo career. He also works with saxophonist, Trevor Watts and is a member of the bands, Gigspanner, Tanna and Feast of Fiddles.
For more information please visit Peter's web site at:-
http://www.peterknight.net/
Peter also takes workshops and masterclasses. For details of this go to:-
http://www.peterknight.net/masterclass.htm