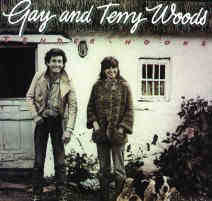 Gay and Terry Woods.

Track listing –

1. We Can Work This One Out
2. Friends of Mine
3. Full Moon
4. I've A Lady
5. The Reward
6. I Won't Believe It
7. Dream Come True
8. Piece of Summer
9.Lonesome Blue
10.Heart of Stone

Line Up-

Gay Woods

– dulcimer, autoharp, vocals.
Terry Woods – guitars, banjo, vocals.
Phil Palmer-guitars.
Jim Russell-drums.
Kate McGarrigle-piano, backing vocals.
Pat Donaldson-bass, backing vocals.
Keith Donald- alto sax.
Martin O Connor- accordion.
Neil Toner-mandolin.
Fran Breen-percussion.
Jolyon Jackson- organ and cello.

Recorded

– Lombard Studios, Dublin

This album was originally released in 1978 by Mulligan Records. Now, over twenty years later, you can buy it again, courtesy of Cooking Vinyl at

www.cookingvinyl.com.

Nick Clark took a trip down memory lane for another listen

…

Even in 1978, Steeleye Span were just a memory for Gay Woods and husband Terry. They had left after just one album and started The Woods Band using material they had written together. Unfortunately, after only the same output

– one album, they disbanded and the husband and wife team was left to their own devices. After a time of living on their farm in Ireland they returned to the studio as a duo and enjoyed their most creative and successful musical phase. 'Tender Hooks' comes out of this mid-seventies time and given the styles around then, it is a wonder it was not a much bigger commercial success even than it was. In the same year as its release, Renaissance had a hit with 'Northern Lights' – a song not too dissimilar to some of the material on 'Tender Hooks'.

With the benefit of hindsight, it is possible to see why the album was so well acclaimed. The two had a wide repertoire of distinct musical styles to draw on, all of which were popular in that time and now make us folk of a certain age a touch wistful for what has passed. The album opens with

'We Can Work This One Out' – a song you will be singing long after the album is put away. It's one of the most catchy and easy to listen to and the mixing on the album brings Gay's voice to the front. It's a very commercial sound. After that 'Friends of Mine' changes style with the emphasis on acoustic guitar. Likewise with 'Full Moon' it's very much of it's era. Terry takes vocals on 'I've a Lady' – a much more upbeat number and does it comfortably with backing vocals from Gay. 'The Reward' is much folkier and a bit like what you would expect nowadays – lovely vocals and a tune that stretches Gay and shows what a fine disciplined singer she had become.

Side two (on the old vinyl) commences with another bouncy opener

'I Won't Believe It' featuring a banjo line from Terry extending the range of sounds on the album before another rockier number 'Dreams Come True' gives him a chance to up the tempo again. 'Piece of Summer' is much slower, another ballad from Gay and by this time the different pace of each track has made the record much more interesting. 'Lonesome Blue' is just that. A solitary blues- inspired number with Terry's guitar matching and playing off Gay's lead vocal. The album closes with 'Heart of Stone'. For me, this is the highlight of Terry's performances on 'Tender Hooks', a great vocal to back up a superb guitar riff, presumably by guest musician Phil Palmer.

This is a Steeleye Span website, so how will

'Tender Hooks' suit Spanners fans? Well, it doesn't equate to anything the band were doing at the time to my mind. It is, as I've said, very commercial, but I don't consider that a bad thing. The assets Gay has brought to Steeleye, the strong and soulful voice and the new Irish slant are not present in force here. Her voice is good but it's not called upon to sing material which would take her onto the level she has reached in the last few years since rejoining. It is much more constrained by the type of music. So don't buy this album thinking it is Steeleye, it isn't. However, I do recommend the record on it's own merits. If it's part of your past, it's a long overdue transfer to CD anyway. If you buy it blind having not heard any of it before, you won't be disappointed. It's very much worth having. Beautifully crafted, some lovely songs and a great variety of genuine, well-played music that is in such short supply nowadays. A fine record!

Nick Clark.
July 2000.